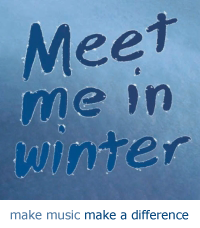 "Meet me in Winter" is a fantastic project that is all about bringing people and communities together using the power of a single song.  The idea comes from Katie Elliott, a noted musician from Wotton under Edge and a friend of ours who also home educates.  It has already gained local prominence and some national coverage and the single itself will be released soon.  Not only is the single fantastic and has been put together in a fantastic way but the money will be going to something really worthwhile.
I'm not even going to spend time telling you to go and buy it, rather go and look at their website and read the information they have put up there.  Then go and click on the YouTube links to hear the bits of the single.  After doing all that, I can guarantee that you will be counting down the days tot he 21st November to get your hands on your copy of this momentous music!
So go to www.meetmeinwinter.org and see what a true community project can do, and what you can do to contribute and play your part!  And perhaps even more importantly, pass the word on, tell someone else about this inspirational project.